ABOUT
Wisdom promises to deliver top-notch legal services to every client.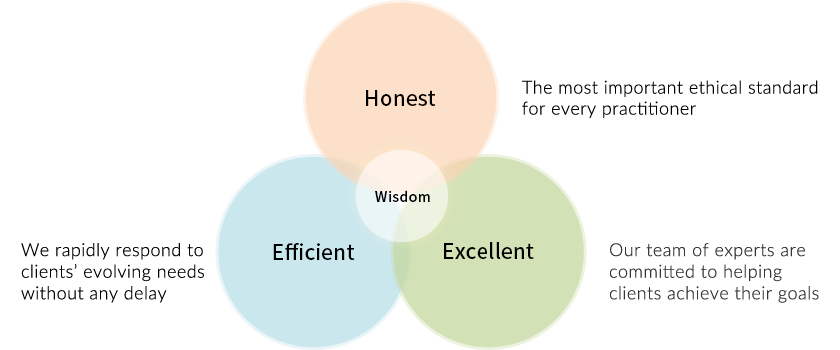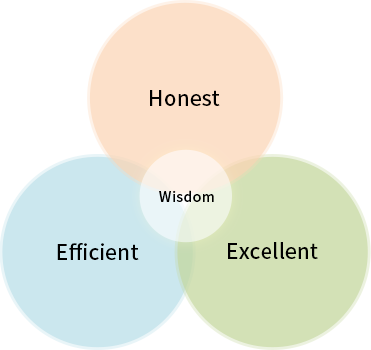 Honest

The most important ethical standard for every practitioner
Efficient

We rapidly respond to clients' evolving needs without any delay
Excellent

Our team of experts are committed to helping clients achieve their goals
Wisdom International Patent & Law Office is one of the leading intellectual property law firms in Taiwan. We advise and facilitate local and international clients on all aspects of intellectual property protection and enforcement, including patent, trademark, design and copyright across diverse commercial sectors and technological fields.
Wisdom has highly skilled experts in various technical fields, ranging from biotechnology, chemistry, chemical engineering, pharmaceutical sciences to electronics, engineering, mechanics, and industrial designs. Our patent team is experienced in drafting and prosecuting patent applications, as well as handling invalidations and litigations. You can rely on us that you are well represented in any patent matters.
With the extensive experience and resourcefulness of our trademark team, Wisdom handles prosecution, enforcement and litigation matters on behalf of a diverse client base. Our team of trademark experts is dedicated to take your business to the next level through the effective use of trademarks and advising you on the right IP strategy.
Wisdom has been widely recognised by renowned international rankings in patent and trademark. Wisdom was recommended by the IAM Patent 1000: The World's Leading Patent Professionals in the "Patent Prosecution" category in 2021, and was recommended by the WTR 1000: The World's Leading Trademark Professionals in the "Prosecution and Strategy" category in 2021. Our practitioners have also been individually ranked and recognised as "Recommended Individual" in the IAM Patent 1000, the WTR 1000 and the ASIA IP rankings.
We have close working relationships with the Taiwan Intellectual Property Office and leading intellectual property attorneys throughout Asia and all other countries. Wisdom is an active member of international intellectual property organisations including International Trademark Association (INTA), Asian Patent Attorneys Association (APAA), and International Federation of Intellectual Property Attorneys (FICPI).
Our professionals are multilingual, multicultural and have many years of experience in the field of intellectual property rights. We work closely with our clients and provide pragmatic and commercially-focused solutions according to our clients' needs. Not only do we achieve perfection, but also strive for excellence.
Our Features
Connect the West and Asia

Our "Taiwan-China-Japan one-stop service" enables clients to navigate three countries' IP protection frameworks at Wisdom. Clients can avoid having to deal with multiple firms when obtaining IP rights and never need to worry about the translation of patent specifications since they are professionally translated and proofread by native speakers.

Practical Experiences

The quality of our IP Team has long been trusted by clients. Our professionals demonstrate extensive practical experiences and possess wide-ranging knowledge in diverse technology fields. We ensure that all patents and trademarks receive the most complete protection available.

Global Team

Apart from our expertise of various languages, Wisdom has close collaborative relationships with professional law offices in in all five continents, rendering us to be the optimal agent for you.

Very Responsive

All cases are specifically assigned to senior attorneys or patent attorneys. It is not surprised that we can respond within 24 hours and fulfil your actual needs.

Reasonable Fees

Wisdom adopts a transparent cost system and reasonable billing standards. We provide comprehensive IP services for clients, including handling applications and litigations cases. You can save large sums of unnecessary expenditures.