Announcement of INTA Committee Membership
Date: 5 October, 2021
We are happy to announce that our Director George J. H. Huang (Attorney at Law, Patent Attorney) has been selected to the Anticounterfeiting Committee of the International Trademark Association (INTA) for the 2022–2023 term.
Anticounterfeiting Committee
Develops and advocates the Association's policy regarding anticounterfeiting and enforcement issues. The committee will monitor developments in treaties, legislation, regulations and other enforcement mechanisms in various jurisdictions, complete analyses and propose policy recommendations to the Board. Work includes report and submission writing, interaction with anticounterfeiting organizations and advocacy in conjunction with relevant INTA committees and staff.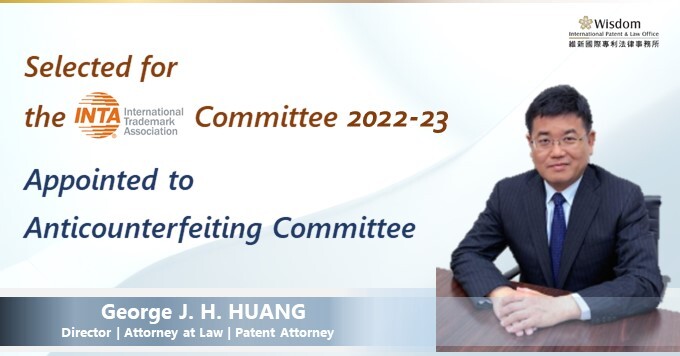 Founded in 1878, INTA is a global association of brand owners and professionals dedicated to supporting trademarks and related intellectual property (IP) to foster consumer trust, economic growth, and innovation. INTA Committee Members work closely with INTA staff to assess and address a wide range of issues related to trademarks and intellectual property, including: advocating trademarks and brand owner rights, developing resources industry stakeholders, and the public, and communicating and implementing strategic initiatives.